4.7 Billion Plastic Toothbrushes Are Thrown Away Every Year Worldwide
This upset me, so I wanted to change things...
I've created a Stainless Steel handle with interchangeable Bamboo Brush Heads which will give you the perfect, premium clean, without the plastic.
Simply change your Bamboo Brush Heads when your bristles fray, made even easier with my optional head replacement program.
For Just £3.99, The Same Price As Your Plastic Toothbrush...
You can have replacement bamboo heads delivered to your door automatically.
Or buy head replacements when you need them!
I want to make it easy for you to be eco. 
Why Make the Switch to Barnaby's Brushes?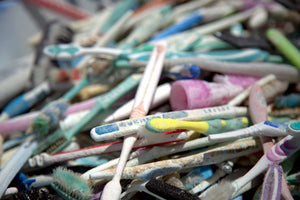 The average person uses 60 toothbrushes every decade. All of these plastic toothbrushes are still on earth today, taking more than 400 years to decompose.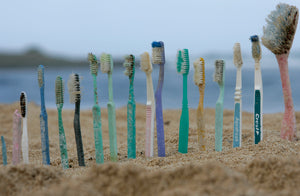 Roughly 500,000 plastic toothbrushes thrown away every hour, either ending up in landfills or in the worlds waterways. 
What My Customers Have To Say
Hi, I recently bought a couple of toothbrushes from you :) I just wanted to say thank you- the design is beautiful and the quality is excellent! It's heart-warming to see that business can go hand in hand with caring about the planet.

Astrid Moore
I'm just getting started with my Barnaby's Brush and I must say I am very impressed so far. The quality is outstanding and the service excellent - it was great to speak to Barnaby directly! Recommending to all my friends.

Janet Boardman
I am always looking for more ways to be more eco-friendly, but I wasn't getting along with normal bamboo toothbrushes. I'm very pleased with my Barnaby's Brush and the subscription service that comes with it.

Arthur Hamilton
Super stylish and great quality! My regular bamboo toothbrushes end up mouldy at the end and splinter when wet. This toothbrush is super sleek, easy to clean and replacing the heads is easy! I love the head subscription so I never forget to change it!

Carly Fitzgerald
Hi Barnaby, I just wanted to say kudos on a great product. I'm astonished by the quality and think you could really be onto something here.

Emma Hobden
I bought these as Christmas presents for my family and I must say that none of us could imagine going back to regular bamboo toothbrushes anymore. They solve the problems I had and I can't recommend the service enough.

Emily Cartwright